Preschool Worksheets
Scholastic Teachables (formerly Scholastic Printables) has more than 4,500 Preschool worksheets for all subjects and themes and more than 25,000 award-winning printables for all grades and subjects! Our professionally produced preschool worksheets enhance early learning, introducing and educating early learners with numbers, colors, letters and more.
Sign up today and get instant online access to preschool worksheets, lesson plans, learning activities, and more to cover all subjects and skills. Learn why thousands of teachers have chosen Scholastic to be their teaching resource. Your subscription also provides complete access to subjects, topics, and worksheet themes for all grades.
Scholastic's Preschool Worksheets Cover:
Alphabet Skills
Calendar and Time
Character Education
Colors
Conflict Resolution
Early Learning
Feelings & Emotions
Fine-Motor Skills
Following Directions
Handwriting
Health and Safety
Holidays and Celebrations
Language Arts
Math
Scissor Skills
Numbers & Counting
Reading
Science and STEM
Shapes
Social Studies
Tracing and Writing
Sample Preschool Worksheets
Scholastic Teachables' more than 4,500 preschool worksheets span more than 20 subjects and cover many topics and themes! Additionally, you get access to more than 25,000 award-winning printables and leveled learning collections in reading and math to reach every learner. Scholastic publishes new printable preschool worksheets each month to keep your courses fresh, exciting and up-to-date. Plus, you can access all of our resources from any device, whether at school or at home. Spend more time focusing on your courses and less time on preparing materials—simply find it, print it, teach it!
Here's a sample of preschool worksheets for you to try in your class—FREE with a 30-day trial or subscription.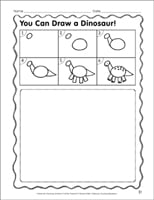 (Preschool Worksheets)
Follow these simple steps to draw a dinosaur using basic shapes.
Grade:
Pre-K - 1
Topic:
Early Math, Motor Skills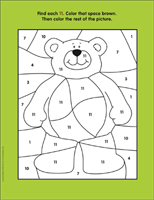 (Preschool Worksheets)
Follow the instructions and color the bear brown, then choose colors for the rest of the picture. Targets number recognition for the number 11.
Grade:
Pre-K
Topic:
Colors, Motor Skills, Following Directions, Counting and Numbers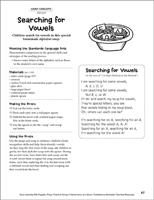 (Preschool Worksheets)
Vowel soup and lift-the-flap letter sounds will keep them learning their ABCs! Each easy-to-make craft project includes step-by-steps and a companion sing-along song, sung to a favorite tune!
Grade:
Pre-K - K
Topic:
Poems and Songs, Alphabet Recognition, Phonemic Awareness, Following Directions