Science Games
Scholastic Teachables (formerly Scholastic Printables) has hundreds of science games for students from grades Pre-K through 8! These engaging games will help you relate the sciences to your students in a way that is fun and accessible. Our varied and creative science games keep the material fresh and exciting, and include crossword puzzles, scavenger hunts, Bingo games, sorting games, card games, fun flaps, and much more!
To discover why Scholastic is the resource of choice for thousands of teachers, sign up today and receive instant online access to science games, plus more than 25,000 other award-winning printables for all grades and subjects.
Scholastic's Science Games:
Animal behavior
Animals
Astronomy
Bingo
Card Games
Crossword Puzzles
Early Science
Earth Sciences
Life Cycles
Life Science
Health and Safety
Food and Nutrition
Insects
Inventors and Inventions
Physical Sciences
Reptiles and amphibians
Scavenger Hunts
Science Vocabulary Games
Seasons and Weather
Simple Machines
Stars & Planets
Technology Games
Time and Measurement
And More!
Sample Science Games
Hundreds of science games from Scholastic Teachables cover many topics and themes.
Sign up to access all of our science games and Scholastic's more than 25,000 additional award-winning printables and leveled learning collections for grades Pre-K through 8. New printables and science games are published each month to keep your courses fresh, exciting, and up-to-date. You can access all of our resources from any device, whether at school or at home. Spend more time focusing on your courses and less time on preparing materials—simply find it, print it, teach it!
Here's a sample of science games for you to try in your class FREE with a 30-day trial or subscription.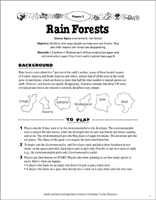 (Science Game)
Students role-play developers and environmentalists as they learn about ways to save the rain forests–and why it's crucial to do so. Includes game board and card set templates, game-play instructions, discussion prompts, and extension activities.
Grade:
1 - 3
Topic:
Science
(Science Game)
Students play dominoes with insect-themed playing pieces.
Grade:
PreK - 1
Topic:
Early science
(Science Game)
These reptile and amphibian word activities are a fun supplement to your life sciences or underwater life lessons.
Grade:
Pre-K - 3
Topic:
Science