Customize Your
Lessons With the Make
Your Own Tool!
Create your own games, puzzles, or flash cards—it's simple!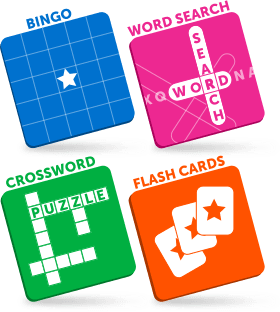 1. Choose A Game
Select from crossword puzzles, word searches, flash cards, or bingo cards.
2. Build Your Word List
Upload your own word list or use one of the specially selected Scholastic word lists.
3. Customize and Print
Adjust the appearance, size, and difficulty level—and then spruce it up with images and clip art.