Reading Comprehension Worksheets from Scholastic Teachables
Scholastic Teachables (formerly Scholastic Printables) has more than 3,500 Reading Comprehension Worksheets for grades Pre-K to 8! Leveled reading books and worksheets cover a wide variety of topics, themes, and subjects, both fiction and nonfiction, to truly help young readers excel.
Sign up today for instant access to printable reading comprehension worksheets for all grades, as well as reading comprehension lesson plans and teaching ideas, practice pages, activities, and more. Your subscription also provides complete access to more than 25,000 award-winning printables and leveled learning collections in reading and math to reach every learner.
Our Reading Comprehension Worksheets Cover:
Author's Purpose
Cause and Effect
Compare and Contrast
Context Clues
Drawing Conclusions
ELL and ESL
Fact and Opinion
Genres
Literary Elements
Main Idea and Details
Making Inferences
Predicting
Sequencing
Story Elements
Summarizing
Using Text Evidence
Visualizing
Vocabulary
Writing
And More!
Sample Reading Comprehension Worksheets
More than 3,500 printable reading comprehension worksheets from Scholastic cover a range of skills from Pre-K through grade 8. Here's a sample of reading comprehension worksheets for you to try in your class—FREE with a 30-day trial or subscription.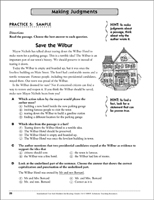 (Reading Comprehension Worksheet)
A study guide for the reading comprehension sections of standardized tests.
Grade:
5-6
Topic:
Reading Comprehension
(Reading Comprehension Worksheet)
Students will have fun reading the hilarious adventure The Case of the Terrible Tooth Fairy. This activity will give students spelling practice.
Grade:
5
Topic:
Reading
(Reading Comprehension Worksheet)
Students think of important events in a story they have read then write the cause of the event in one space of the worksheet and the effect in the other.
Grade:
3-4
Topic:
Reading