ESL Worksheets and Lesson Plans from Scholastic Teachables
Scholastic Teachables (formerly Scholastic Printables) has hundreds of ESL worksheets, printables, and lesson plans for grades Pre-K–8 that span more than 20 different skills! Sign up today and get instant online access to ESL worksheets, lesson plans, printables, and more to cover all grades and skills.
Scholastic's ESL Worksheets and Lesson Plans Cover:
Language Arts
Phonics
Vocabulary
Reading
Reading Comprehension
Writing
Math
Counting and Numbers
Number Sense
Early Learning
Following Directions
Social Skills
Social Studies
American History
Biology and Life Science
Communities and Ways of Life
Geography
Decision-Making Processes
Real-World Science
Safety
Seasons and Weather
Test Preparation
Understanding Self and Others
ESL and ELL
ESL Students
ESL Program
Sample ESL Worksheets and Lesson Plans
Hundreds of Scholastic ESL and ELL worksheets and lesson plans span more than 20 topics from Pre-K through grade 8. Sign up, and you'll also get access to Scholastic's more than 25,000 award-winning printables and leveled learning collections in reading and math to reach every learner.
Here's a sample of worksheets for you to try in your class—FREE with a 30-day trial or subscription.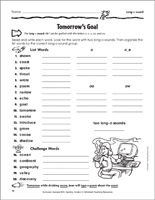 (ESL Worksheet)
Your students will enjoy these varied activities to practice the long-o sound spelling with the letters: o, o-e, oa, and ow.
Grade:
3-4
Topic:
Reading, Language Arts, Writing, ESL and ELL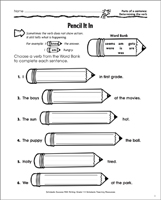 (ESL Worksheet)
Engaging pencil graphics help explain that some verbs do not show action but still tell what is happening. Children complete sentences.
Grade:
1
Topic:
Reading, Language Arts, Writing, ESL and ELL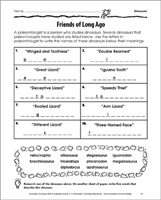 (ESL Worksheet)
Using the letters in the word "paleontologist" and the list of dinosaurs provided, children write the names of dinosaurs below their meanings.
Grade:
2
Topic:
Reading, Language Arts, Writing, ESL and ELL